Subscribe by Text for ActiveCampaign
Capturing email addresses at live events is incredibly easy with Textiful!
You create a custom keyword that is assigned to a phone number. Customers will text the phrase to the number to start the process.
Textiful will automatically reply with a message that you customize asking them for their email address. Once they text their email address... well... that's it!
Their email address will be captured and automatically synced to your ActiveCampaign email list.
Sync emails to your ActiveCampaign List automatically
Add contacts to ActiveCampaign Tags
Start contacts on ActiveCampaign Automations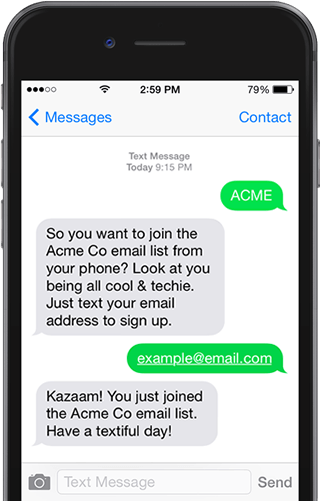 Try Textiful at your next event
With Textiful, you can get started in minutes. Claim a keyword and customize your messaging to get started today. Best of all, you can start for Free - no credit card required to create your account.
Our ActiveCampaign integration is easy. All you need is your ActiveCampaign login information and you can start syncing collected emails to your ActiveCampaign list in minutes!
Get Started For Free