Grow Your Email List By Text Message
Collect information from your audience at live events using text messages. You have full control over the messaging and what information is collected. Use Textiful to capture email addresses, names, zip codes and more.
Grow your email list faster. Sync captured emails to your email list automatically using our integrations. You can also export your data at any time.
---
1

Create a Keyword

Keywords are the phrase your audience will text to start campaign. Each keyword is assigned to a number. Textiful currently supports numbers in the US & Canada.

We have the number 33777 that your audience can text. This "short code" number is easier to type and remember than a 10-digit number. If you prefer to use the longer numbers, we offer those too!

2

Build a Message Campaign

Simply add the types of information to collect from your audience. Capture email addresses, first names, company information, whatever you want.

Fully customize each message to match the personality of your organization. Take the experience to the next level with personalized messages.

Just want to grow your text list and not capture information? No problem! You can do that too.

3

Audience Sends a Text

Once things are set up, your audience can begin texting your keyword. As soon as they do, they'll receive the first message of your campaign.

All they have to do then is follow the prompts within your messages. Their answers will be captured by Textiful. It's super simple!
Are you an eCommerce or DTC brand?
Customers purchase simply by replying "yes" to your product text message

Features At A Glance
All of the tools you need to grow your email list with texts & send broadcast SMS messages
Text Marketing Messages
Instantly reach your audience by sending a text broadcast messages to your list.
Send MMS Image Texts
Go beyond simple SMS text messages by sending image texts for a bigger impact.
Text to Vote
Get instant responses to questions for your audience with Text to Vote polling.
Lightning Quick Setup
Obtain a keyword and create your message campaign in minutes, not days.
Automated Drip Campaigns
Send timed texts to your audience after your event to keep them engaged.
Text Marketing
You can send SMS text messages in bulk to your audience. These messages are highly effective and the perfect way to deliver calls to action to your biggest fans.
Use broadcast texts to notify your audience of upcoming events, promotions, and new products. Send your messages instantly or schedule them to be delivered in the future.
90% of text messages are read within 3 minutes of delivery.
97% is the overall open rate of text messages.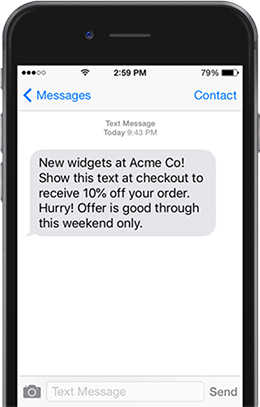 Pricing Plans
No contracts. No setup fees. No credit card to get started.
Large Business
$

499 /mo

Capture up to 7,500 emails
per month
---
Includes
15 Keywords on 5-Digit Numbers
15,000 Outgoing Text Messages
Message Credits Never Expire

Corporate
$

849 /mo

Capture up to 17,500 emails
per month
---
Includes
25 Keywords on 5-Digit Numbers
35,000 Outgoing Text Messages
Message Credits Never Expire

Custom
email us
Need more credits or keywords? We can craft a fully customized plan to fit the needs of your organization.
Send us an email at hello@textiful.com for a custom quote.
---